/ Affiliates / Settings of the Partner Profile
Content
Partner profile
The key purpose of the profile is to enter the bank account details to get the payments from the partnership program authors. You can also change the account password in the profile.
To go to profile, click the top right checkmark in your account and select Profile in the opened menu.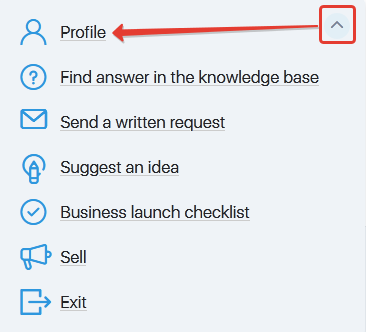 Main settings
You can change the name and the telephone number in this tab.
How to change the name?
To change the name, delete the old name and enter a new one into "Your name" field. Click Save to save the changes.
How to change an account email
You cannot change an account e-mail for security reasons. To change an e-mail address, please contact the client support service.
How to change a telephone number
To change a telephone number, click "Your telephone number", a confirmation code will be sent to your address. Enter the code on the page which is opened upon clicking "Your telephone number", and enter a new phone number.
Enter your valid phone number, else we can't identify you and your phone number.
Bank account details to receive payments
Enter your bank account details to receive the payments from the authors of the partnership programs.
Payment methods
You can use PayPal and bank account details.
Enter the wallet number or the bank account details as your payment details, it will be displayed to a partnership program author. Click Save once you enter the payment details.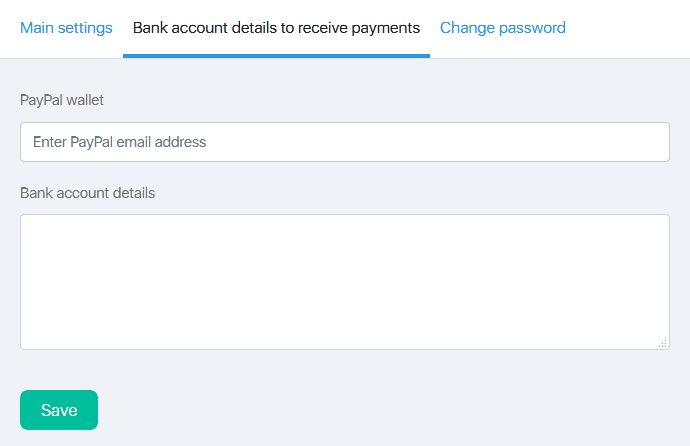 Change password
To change your current authorization password, enter it in the "Current password" field, then enter the password you would like to use in the future in the "New password" and "Confirm new password" fields.
Articles:
Website Page Settings
The Commissions for the Selected Partner
Adding the Commissions for the Selected Partner
Paying Off the Commissions to the Partner
Adding and Editing Free Products